York Inset Scooter Club are a group of like minded individuals with a common interest in all varieties of scooters and motorbikes.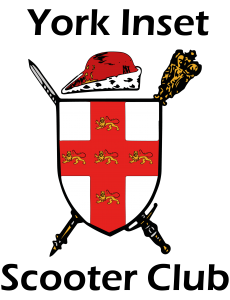 Our membership varies from year to year, as do our members, so why not visit us on a Tuesday night from 7pm at The Walnut Tree in Heworth, to join us in one of our many ride outs throughout the year.
We aim to have at least one ride out a week, annually contribute in fundraising for local charities, host multi-meets and provide a scooter entourage at many local events in and around York.
If you decide that you want to become a York Inset Scooter Club member, we do have a membership fee of £20. This helps to fund our yearly events, public liability insurance, charity presentation nights, quiz evenings and club night buffets.
---
FOLLOW US
Keep up to date with club dates & event info on our social media.
Facebook: YorkInsetSC
Instagram: @yorkinsetsc
YouTube: YorkInsetSC
---
TAKE A LOOK AT WHAT WE GET UP TO…
Watch our club videos on Youtube, click the play button below: